Lee 'Crown' Min-ho is one of those professional League of Legends players that many of us will remember forever, a veteran of the competitive scene who thrilled and excited a generation. But now, at the age of 25, the South Korean mid laner hangs the mouse and the keyboard and announces his retirement.
His professional career started back in 2014 when he moved to Brazil to join Team 58ers and quickly sign with KaBuM! Black. It was in 2015 when Crown traveled back to Korea, to join Samsung Galaxy, with which he would spend more than two years and managed to win the League of Legends World Championship in 2017.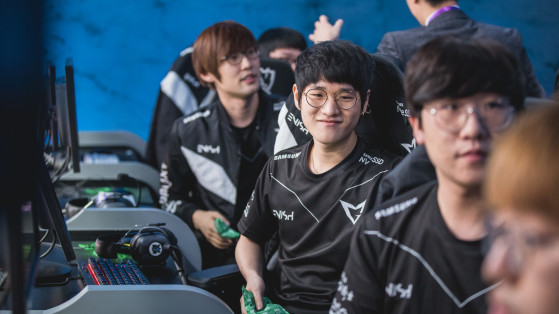 2018 was a rough year for the mid laner. He joined Gen.G and during the whole season struggled a lot to have decent results… despite he managed to qualify once again for Worlds, the team couldn't make it out of the Group Stage, and the experience became a complete disaster.
After that, he decided to initiate a new adventure in the North American LCS, starting with OpTic Gaming, and then trying luck with Immortals and CLG… but he barely succeeded.
Finally, this year he traveled back to Korea, to play with OZ Gaming, and after another disappointing year, the mid laner has announced his retirement on December 1st.
He has done it through a post published on his personal Instagram account. The post says as follows:
"This is Lee "Crown" Min-ho, who played with the name Crown.
I am writing this so that I can greet you all and the fans one last time under that pseudonym: Crown.
First of all, to all who encouraged and praised me, I am truly grateful for the attention and love you gave me that I don't deserve.
I started enjoying video games back in 2009 when Starcraft: Brood War suddenly became popular in school. I played against my classmates based on what I remembered from playing with my cousins and friends when I was younger, but I lost to some of my friends.
Maybe since then – Maybe I got competitive, so I started looking at builds, strategies, and controls. I analyzed and practiced to beat all my friends one by one that I couldn't win. I think that's when I started to get really interested in video games.
One day, by chance or fate, I saw Lee Jae-dong playing the finals of the OGN Starcraft League. Seeing him win the title, enjoying the victory, being recognized, his voice and expression when doing the interview – everything at that moment, I wanted to be like him. From that moment on, I didn't even know what I was, but I wanted to get the "Golden Mouse" and I worked hard to become a professional player.
(I really don't think I worked that hard then, and I don't think I worked that hard when I was active either, but now I'm rationalizing and being generous with myself… I didn't give it my all, but I did work hard)
I practiced all the time, played games, joined STX Soul as a trainee in the summer of 2010. I tried to beat the starters from the bottom up, but according to the evaluations of the players and experts, I could not play as an S, A+, A, B player. There were some social problems and certain things – the official Starcraft: Brood War games disappeared, which I liked.
I was living my life after abandoning my dream, but my friends born in '94, '95, '96, and my friends from the Starcraft clan, started playing a new game called LoL, so I started playing the League of Legends.
And so, I did this and that… Starting at the end of Season 2, there was a lot of stuff. Good things, hard things, sad things… I felt things that I don't think I will ever feel again – the competitiveness, the joy, the sadness, the anger, the anxiety, the depression, the apathy, good, bad…
From a certain point on, rather than being fun, interesting, and competitive, all my thoughts became filled with negativity and I started to get stressed out. I started dreaming things that I couldn't realistically achieve and said, "Again, and again," and I've pathetically held on until now. I think it's time to let go.
I have one long message left, right? I simply wrote. I don't even know the grammar.
Now, really. If I say this for the last time, something I wanted to say to myself, or to my mother, or if I just wanted attention, or if I wanted to follow someone – I don't even remember because it's been a long time… I wanted to say this from the beginning until now, but I wasn't able to, and now I can't. If I say this, I think I could leave without remorse. Even if it's weird, just let it go.
With this title as the starting line, I, Lee Min-ho, will be a professional player who continues to grow, to get the second and third title. Thank you
I am grateful to many people, I appreciate all the moments, the coincidences, and the luck. Thank you".
Related article: