T1 and Gen.G are the first two LCK teams to secure a spot in the Spring Playoffs after yesterday's set of games. The two lead the rankings at 11-2 record each, with Gen.G slightly ahead with a +2 tiebreaker difference.
T1 caught up with Gen.G after their direct encounter on Wednesday, giving fans one of the best matches all season. Gwak "Bdd" Bo-seong and Park "Ruler" Jae-hyuk were outstanding for Gen.G to give their team the lead with a quadra kill on Aphelios, but Lee "Faker" Sang-hyeok and Kim "Canna" Chang-dong came strong in games 2 and 3 to reverse-sweep the series.
T1's top laner is looking to finish the season as one of the hottest rookies in the LCK. Canna played an outstanding Sylas for the victory on Wednesday, putting on a 10/1/13 KDA across two games. In the bot lane, Park "Teddy" Jin-Seong and Lee "Effort" Sang-ho were also on their usual top level and their Taric/Kalista lane was a huge reason why T1 got the equalizer in game 2.
There are two and a half weeks to LCK's season end, but it's difficult to see which teams can really dethrone T1 and Gen.G from the top. DragonX are by far the closest, currently 10-4 on a three-game win streak. DX just need to get over the hump that is Gen.G on Saturday, and from there on, they have much easier match-ups: against APX Prince, Afreeca Freecs, and DAMWON Gaming.
KT Rolster enter top 4 after eight-game win-streak
KT Rolster spent 2019 as one of the worst teams in the LCK, even facing relegation after the Spring Split. Their start to the 2020 Spring Season wasn't spectacular either, and by week 3, they stood at 1-5 — the worst team in the league.
As the LCK resumed after its COVID hiatus for the second round of group play, however, KT too returned unrecognizable. Starting with their first win of the season against Afreeca Freecs, KT ended up on an eight-game win-streak, which catapulted them to the top 4 position in the league.
While impressive, KT hadn't played any of the top 3 teams in the LCK, and only their week 6 win against DAMWON Gaming was really an upset. Today, KT went on stage to prove the doubters wrong against DragonX, who had no issue trampling KT rolster in two one-sided games.
In their 0-2 loss, KT scored a total of five kills to DX's 33, losing before the 30-minute mark both games. KT still have to play T1 and Gen.G too, which could mean the end of their short-lived playoffs dreams.
Afreeca in danger of missing playoffs
After winning the 2019 KeSPA Cup, pundits looked at Afreeca Freecs as one of the heavy title contenders this season and top laner Kim "Kiin" Gi-as one of the carries to watch.
Before the break, Afreeca did perform to expectations, only lagging behind the stacked rosters of Gen.G, DragonX and T1, but it's been downhill for them in the second half of the split so far. Afreeca are on a four-game losing streak, their latest defeat coming at the hands of APK Prince, the 8th place team in the LCK.
This put Afreeca out of the top 5 for now, with five more matches to go. Three of those are against T1, DragonX and DAMWON, which could seriously threaten Afreeca's playoff chances.
The LCK Spring Season ends April 16.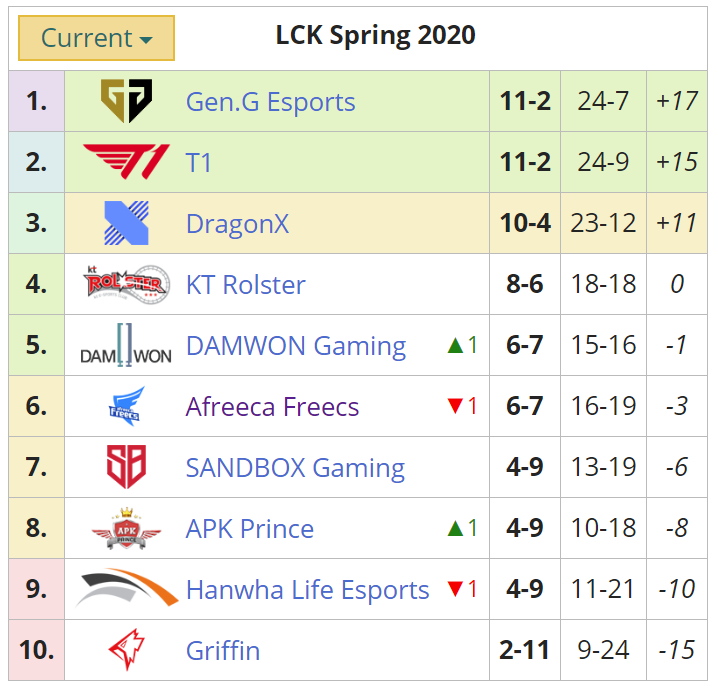 Images by: Riot Games, Liquipedia